Now you can draw super insights from your campaigns & send Retargeting Broadcast Campaigns to the most relevant audience. 🤩
We're super stoked to announce WhatsApp Retargeting Campaigns, a new feature that you can find on the Campaigns page.🔥
We've added various sections including Sent, Delivered, Read, Replied & Failed. ⚡️
From each of these sections, you can filter the audience via smart audience segmentation & send re-targeted Broadcast Campaigns.
So, let's say you wish to retarget users who replied with a particular message to your WhatsApp Broadcast.
Here's how you can retarget them easily. Here's how👇
Hit the Campaigns Page👉Go to Replied👉Select the time when they replied to your WhatsApp Broadcast👉Select Reply 👉Click Broadcast👉Select & Send the message
From each of the sections, you can monitor the message Sent Rate, Delivery Rate, Read Rate, Replied Rate & Failed Rate. Clicking each section gives detailed & precise insights into your campaigns. 
Now, let's say you wish to Broadcast a message:
To only those who have Read your previous campaign or

Only to those who replied to a certain message or

Only to those users to whom the previous message was delivered but didn't read it!
You can do it in a Jiffy using AiSensy campaign manager.
Use Cases of this feature
Deep-dive into Campaign Analytics: View in-depth analytics of broadcast campaigns & re-target the most relevant audience for another WhatsApp Broadcast.


Monitor Read & Reply Rates: Keep a tab on the number of users who have read & replied to your WhatsApp Broadcast.


View Reason for Failed Message: View how many people to whom the broadcast failed to send have downloaded or not downloaded WhatsApp.


Target the most relevant audience: Let's consider that you want to target users who've shown interest in your offering, i.e. replied to your Broadcast message. You can directly go to replied section & retarget users who've replied to your Broadcast Campaign. 



Here's a quick overview of the Campaigns Page. 
Overview

The overview section gives you a complete view of the number of messages sent, delivered, read, failed, and BIC & UIC costs.





Sent Messages


The sent section allows you to view the number of users to whom the campaign was successfully sent. You can view the name, WhatsApp number & the time when the message was sent to the user.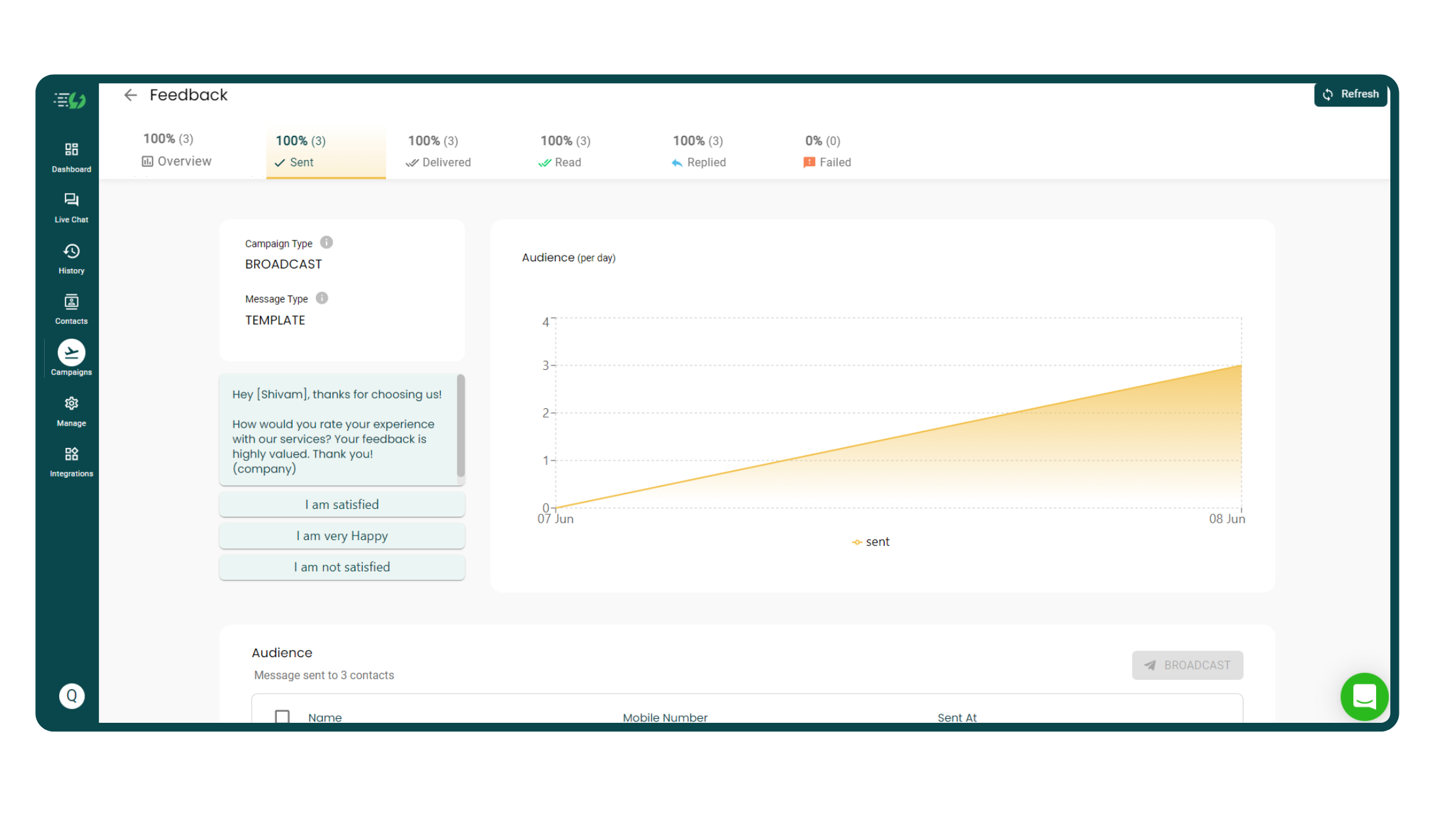 Delivered Messages

The delivered section shows you the exact name & number of users to whom the Broadcast Campaign has been delivered & not delivered.


You can filter users based on "Delivered" & "Not Delivered" as well as both "Delivered" & "Not Delivered" & send retargeting Broadcast Campaigns to users.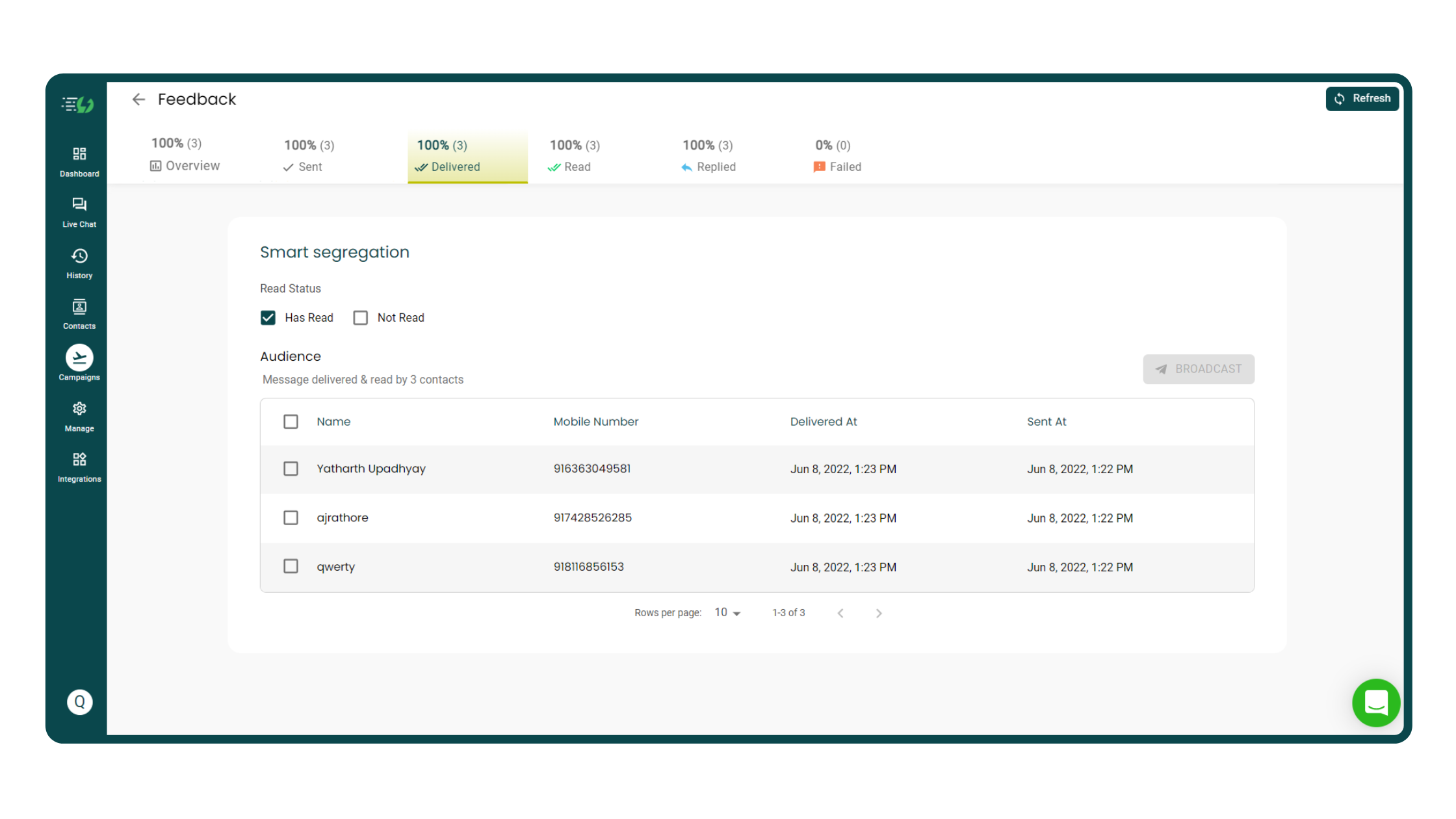 Read Messages

Read section shows you how many people have read & not read the delivered WhatsApp Broadcast.

In this section, you can filter & send retargeting Campaigns to users based on whether they have "Replied" or "not replied" to your WhatsApp Broadcast.

Replies Received

The replied section shows you the number of hours the users took to reply to your WhatsApp Broadcast message.

Here, you can filter users & send retargeting Broadcast Campaigns based on a particular reply like 'Happy Diwali' and whether they replied in '1 Hour', '3 Hours' and '24 Hours'.

Failed Messages

In failed messages, you can find out how many users to whom the broadcast message failed to deliver, are "on WhatsApp" & are "not on WhatsApp". 

You can further send retargeting Broadcast campaigns to users present on WhatsApp but who didn't receive the message.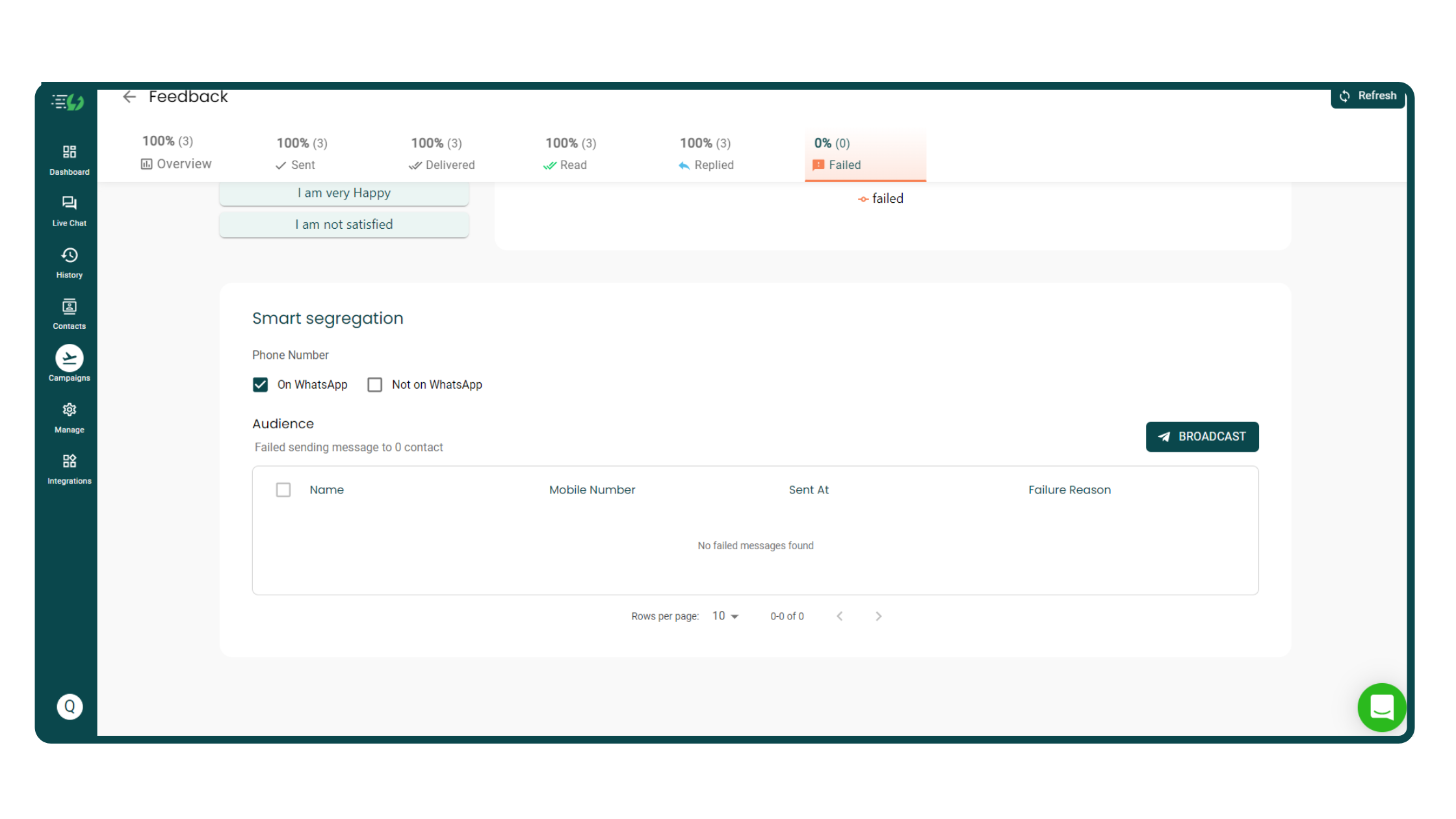 Check out the complete guide to WhatsApp Retargeting Campaigns here.